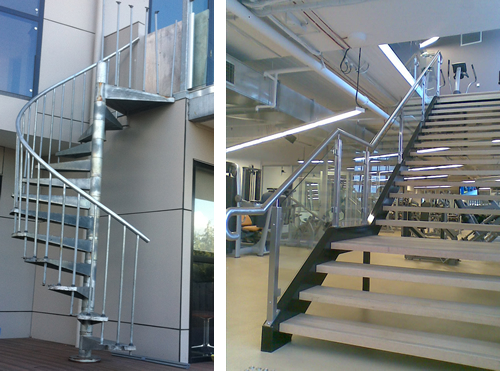 Balustrades & Stairs
Flash Fabrications has vast experience in manufacturing all types of metal framed Balustrades and Stairs.
Stairs
An attractive staircase makes a statement. It can be an interior's crowning glory.
Flash Fabrications can manufacture designs that complement the architectural features of the environment and match the client's vision.
At Flash Fabrications we have earned reputation for creativity, expertise and experience.
Our staircases, which marry form and function, from the simplest straight flights of stairs to spiral staircases and sweeping curved stairs, we can bring any design vision to life.
The combination of structural steel with a range of aesthetic finishes, including wood, steel, glass and stone, will ensure that your custom staircases will elevate the look of any space.
Balustrades
Balustrades, essentially are freestanding barriers supporting a handrail and are composed of a top rail (handrail), a bottom rail (optional), upright supports which are fixed in a variety of ways to the floor structure and infill material of some kind providing the barrier to prevent falls. Typically, a balustrade is required on the open side of a staircase and surrounding any open balcony, gallery or atrium.
Flash Fabrications can design and manufacture virtually any design that incorporates metal, offering a wide choice, to suit either performance and/or aesthetic requirements.
Construction styles include:
Stainless Steel
Galvanised
Steel
Aluminium
All with glass, steel, stainless steel or timber finishing
Complete supply and fit service
Flash Fabrications offers a complete supply and fit service - producing quotations from architectural drawings to on-site measurements, producing production drawings for customer approval, manufacture and on-site installation.
A Flash Fabrications technical consultant is always on hand to advise on any aspect of your project.